Book Review: Carthage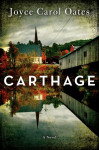 Carthage, Joyce Carol Oates. This is a big (482 pages) and disturbing novel about the disappearance of 19-year-old Cressida Mayhew from her home in Carthage, a small town in upstate New York. The main suspect is damaged Iraq war veteran Brett Kincaid, who has recently broken his engagement to Cressida's older sister, Juliet. Kincaid, physically and mentally damaged by war, can't remember what happened but he feels culpable.
Carthage is told in omniscient viewpoint that seems to move effortlessly into and away from several characters: Cressida herself, her parents Zeno and Arlette Mayfield, her sister Juliet, Brett Kincaid, residents of Beechum County, and others. Its narrative describes events, moves on to new events, then circles back using a different point of view—a new vantage point—and fills in holes. The novel's disturbing quality lies in the question it raises: When does ignorance and self-absorption veer into psychopathy? Not an easy read, nor even a particularly pleasurable one—violent and gruesome images; some passages invited skimming—but gripping nonetheless.
Back to Posts