Book Review: The Happiness Advantage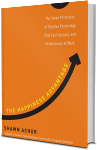 Shawn Achor, The Happiness Advantage. In the usual writer's quest to work harder (or at least, to avoid extinction), reading about how to gain an advantage over fate is, alas, mandatory. This book is one in a long line of positive thinking texts that go back to Samuel Smiles in the 1800s (and probably earlier). But it's a good read. Lots of stories, well written. No earth-shattering advice except, perhaps, the 20-second rule, which says if you want to do something regularly, make it available within 20 seconds. That is, sleep in your gym clothes. And if you want to stop doing something, make it harder to do. That is, take the batteries out of your tv remote. Eh? That's why we pay these guys the big bucks.
Stay tuned for an orgy of self-help books. I'm reading these in service of a character, by the way. Or that's what I claim. Next up: Dorothea Brande's 1936 classic, Wake Up & LIVE!
Back to Posts